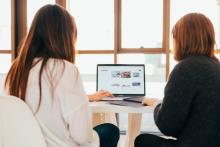 Need some one-on-one instruction? Maybe you need research assistance or have questions about eBooks or your computer.
Our Book a Librarian service allows you to reserve 30-minute personalized face-to-face sessions with a professional Librarian who will help you tackle your informational needs. Librarians are available at all Library locations.
Book a Librarian is available Monday through Friday, 9am – 5pm.
Schedule a time that's convenient for you!
Please contact the Library for availability at 407.742.8888.